Attitudes to mental health and happiness at work have come a long way in the last few decades. With studies showing happy workers are more productive, better engaged and less likely to move jobs, organisations are now willing to add all sorts of perks keep spirits up; be that generous Friday happy hours, or the possibility of unlimited holidays. While these perks can lead to a short-term boost, many organisations are forgetting one of the most simple yet hugely significant contributors to happiness: the workplace itself.
Plenty of things contribute to making happy, fulfilled employees, from good internal communication to flexible working hours, but the psychological impact of the workplace is often vastly underestimated. Cramped spaces, dull interiors, poor lighting or noisy environments can all have a major effect on morale, leading to unhappy employees suffering from Vocation Frustration and struggling to stay motivated. The statistics on this speak for themselves—in our survey of 7,000 office workers across Europe, we found that 68% of employees would feel more valued by their organisation if they were to invest in office space.
But here's the good news: investing in your WORKSPACE doesn't need to break the bank. Free fruit, pet-friendly environments and good-quality stationery are just a few of the simple ways employees have suggested their offices could be significantly improved. Even small changes can show your employees that you care about their office experience, happiness and wellbeing.
The key to a happy, productive office is finding that perfect balance between the physical and the mental—a supportive working environment where employees can grow, learn and explore their creativity, feeling nurtured and listened to. You might not be able to buy happiness, but investing in an inspiring WORKSPACE could certainly help.
---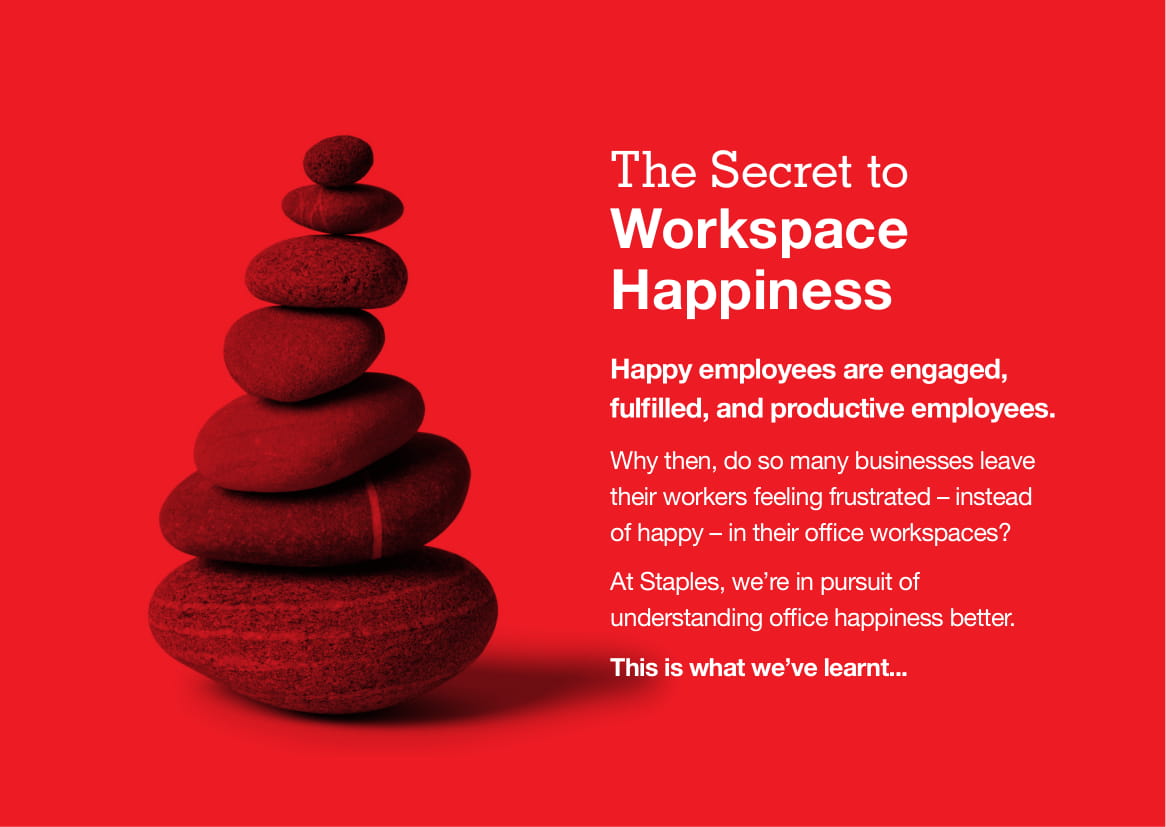 From happy and fulfilled to stressed and frustrated, the office environment can have a huge impact on how you feel at work - and how you perform. Studies have shown that happy employees are more engaged, more productive and more invested in their work, while the opposite is true of those who feel demotivated and frustrated.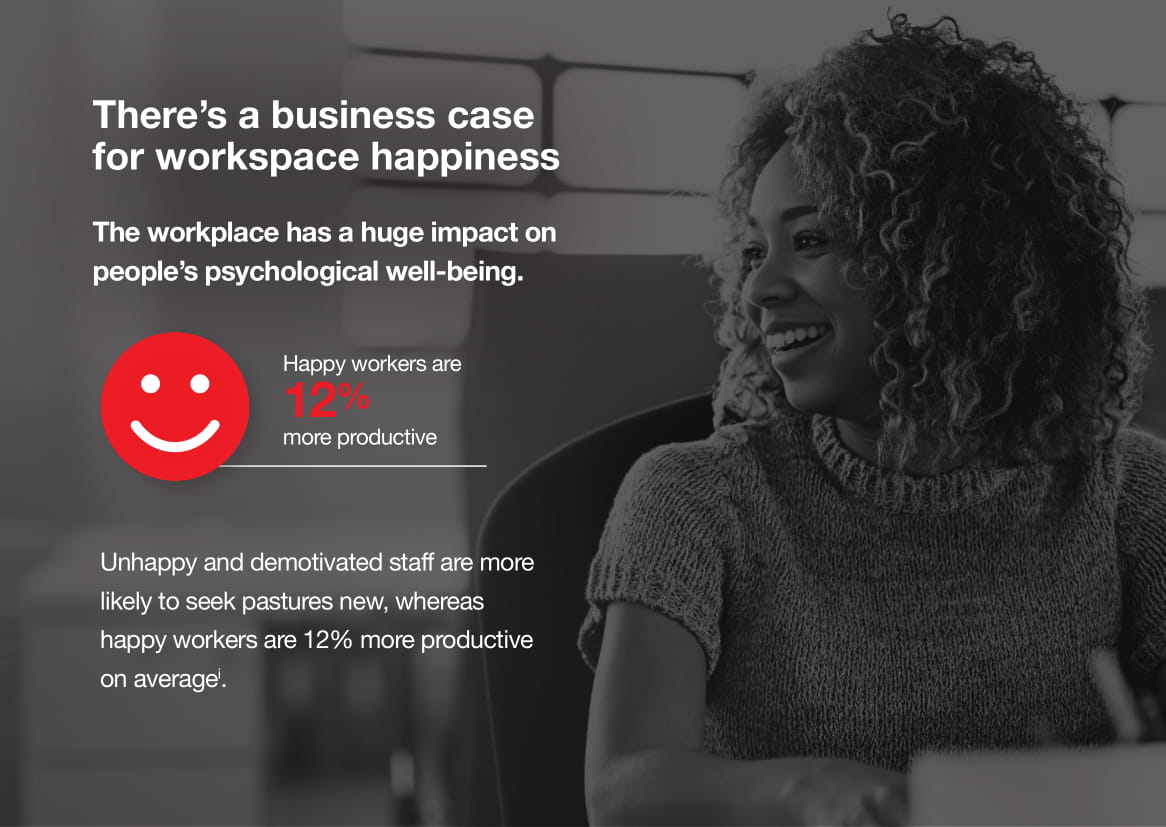 Too many organisations have overlooked this major factor in employee happiness, but change is on the horizon. As the connections between an optimal office environment and happy employees becomes better understood, organisations are learning how transforming their WORKSPACE can have a hugely positive impact on everyone involved.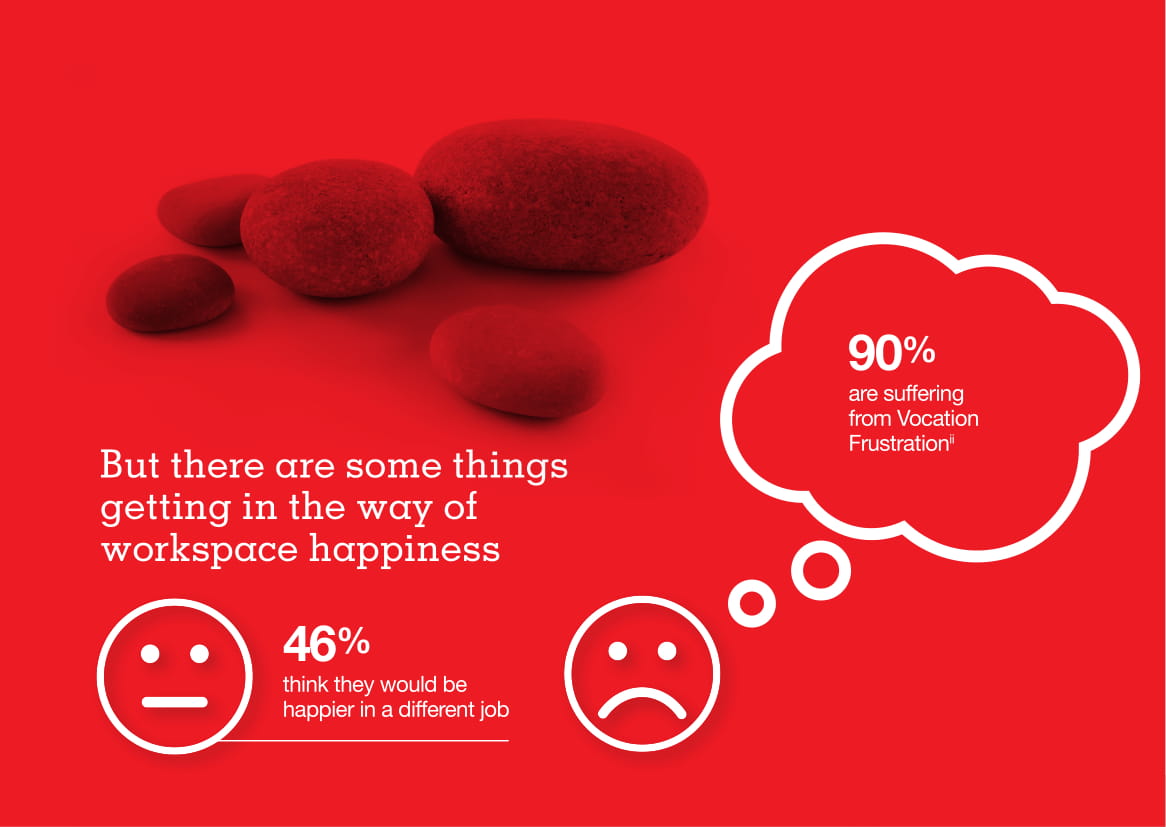 Our environment can have a profound psychological impact on us, and considering the amount of time we spend at work, it's no surprise that a dark, dreary office eventually makes employees feel unhappy and undervalued. This can then lead to a lack of motivation, Vocation Frustration, and even increase the likelihood that employees will consider moving jobs. Good management and a positive company culture also contribute significantly to employee happiness, but while these have the focus of much discussion, the environmental impact is stillmuch less well known.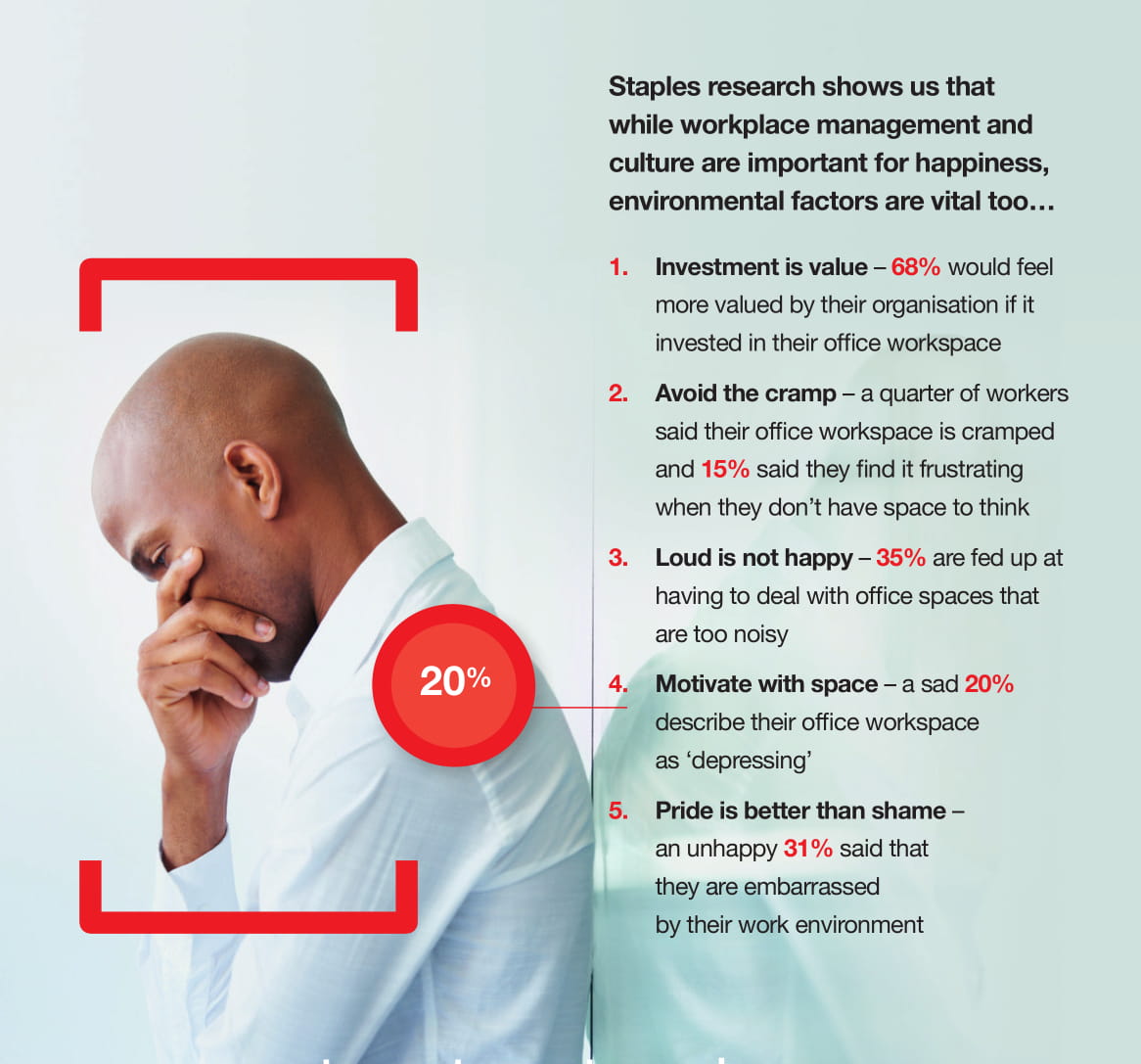 Positive changes to the office environment don't always need to be big and bold. Improved lighting, re-configuring furniture to make more space, investing in quality materials and adding free snacks can all make a difference in helping employees feel valued, important and proud of their office.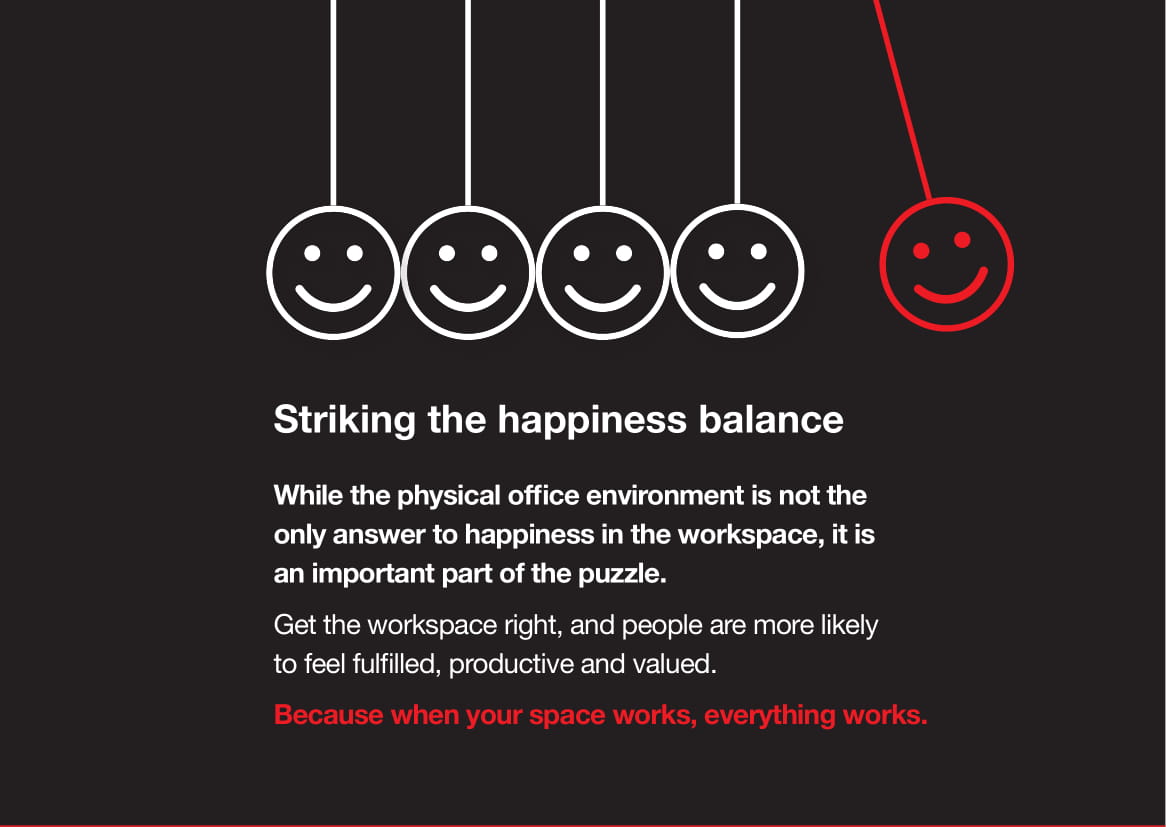 Updating the office isn't the only thing that makes employees feel more involved in their organisation, but it's a key factor that can help make a significant difference, even with just a few small changes. Aim for a balance between a positive workplace culture and a positive workplace environment, and you'll be well on the way to an office full of happy, fulfilled people.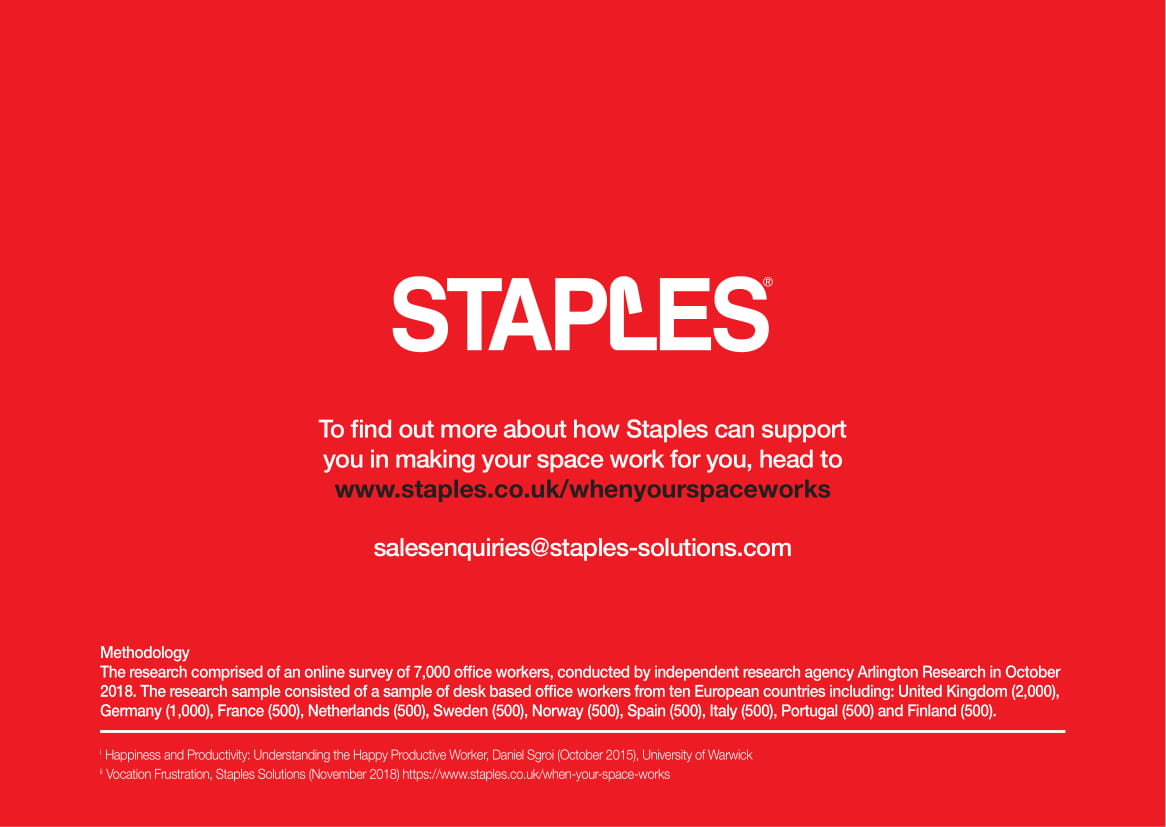 Find out more by reading the full report here.