The modern workplace is evolving and workers are no longer office-bound. Nearly 40 per cent of workers have shifted towards partial or total mobile working, according to IT analytics firm IDC. Yet mobile work presents challenges. In a recent study, Dell found that more than one-third of global workers perceive remote working to be eroding team spirit within their offices.
Hot desking can help build a bridge between remote and in-office work. Hot desking entails shared communal desks, creating temporary workstations instead of permanent desks. Workers grab whichever desk is available when they come into the office.
If designed well and implemented thoughtfully, hot desking can provide a hub for collaboration, helping workers feel less isolated and reinforcing a strong company culture. It also helps small and medium-sized businesses make better use of space because fewer desks go unused.
1. Encourage workers to personalise workstations for the day
People like to surround themselves with desktop toys, family photos and their favourite office supplies like pens and notebooks. Hot desking can make this difficult, running the risk of leaving workstations feeling cold and impersonal. "Desks become flat surfaces rather than somewhere with a personal touch or stamp," explains a Leitz whitepaper.
Make it easy for workers to make their temporary space feel more personal. Provide cubbies, lockers or filing cabinets to lock and store their items. Check out stacking bins to maximise available storage and workers easily store and transport their favourite items to their new desks and keep their entire workspace space neat and tidy.
2. Design workstations to prioritise comfort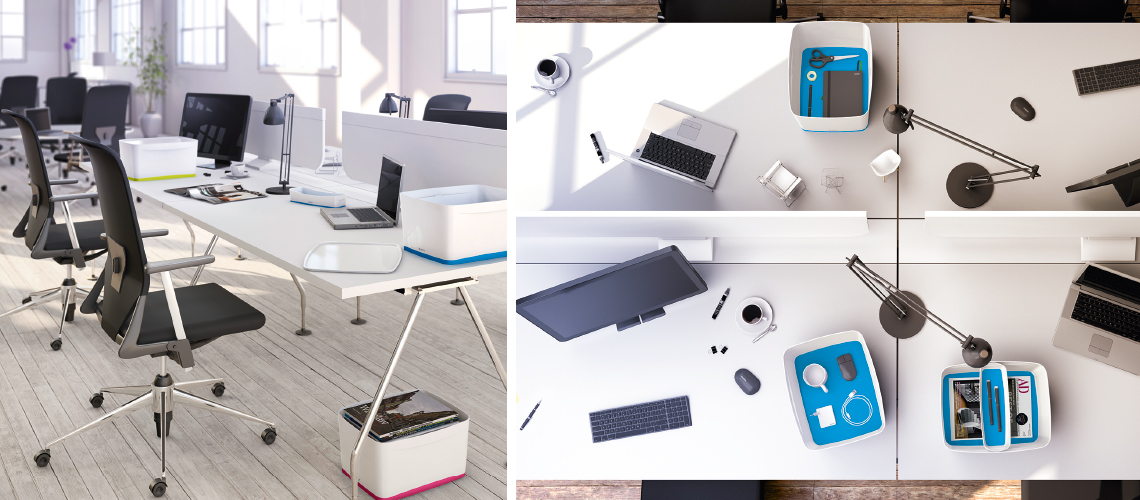 A Kensington research paper found that ergonomics is the number one challenge to implementing hot desking. Being able to make adjustments and tweaks to your chair, desk and monitor is key.
Start with good quality ergonomic chairs with adjustable armrests, angles and heights. Workstation accessories can further enhance workers' comfort and productivity. For example, the Kensington Smart-Fit system features laptop stands, backrests, mousepads and footrests to help workers quickly adjust their temporary workspace every morning and be as comfortable as possible all day.
3. Inspire collaboration with flexible, comfortable common areas
An IBM European study found people who regularly work remotely report problems with collaborating and communicating with others. With a collaboration-friendly office, you'll give more reason for workers to come into the office—whether for brainstorming meetings or simply to build better relationships with their coworkers.
"Design isn't just about environment, it's about mood, behaviours and company brand culture," a Leitz whitepaper states. Make common spaces inviting with comfortable, casual seating. Hang whiteboards to make it easy for teams to crowd around the same space and ideate. Nobo's widescreen whiteboard is optimised to fit the people work, cutting out the dead space at the top and bottom of whiteboards that never get utilised and adding extra space on the sides to ensure no innovative thought gets left out of a brainstorm. Place whiteboard markers and sticky notes nearby. These design tweaks can help inspire collaboration and reinforce company culture.
4. Incorporate colour for continuity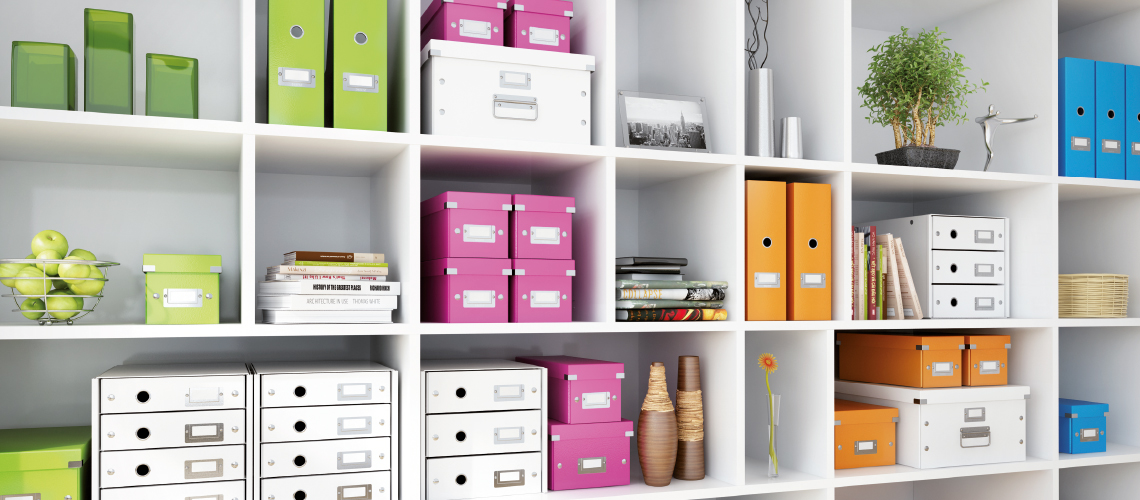 Hot desking is heralded as being an efficient way to utilise space, but you run the risk of your office feeling bland and unexciting. If your office feels too utilitarian, it won't be a warm, welcoming place to work.
A simple way to address this is to incorporate colour throughout. Research has found that blue helps boost creativity, while red can help enhance attention to detail. Incorporate colourful storage, accessories and furniture so your workspace feels like an extension of your organisation's brand. Using colourful boxes and other accessories for organisation can brighten up the office.
5. Encourage a hygienic work environment
Behind ergonomics, the second biggest pain point employers encounter with hot desking is hygiene. Desks and office equipment like keyboards can be some of the most unsanitary areas in your office.
With many people sharing the same desks, it's important for everyone to clean their workspace and disinfect everything before they pack up and leave. Make it easy for employees to practice good hygiene by providing disinfectant wipes and hand sanitiser and circulate this helpful guide to keeping workspaces germ-free.
6. Equip the office with essential office supplies
Despite the gains in technology and mobile working, your workers still need office supplies. "Don't forget the average office worker still handles 10,000+ units of paper a year," states the Leitz whitepaper Work is Where You Are.
Stock your filing or shipping station with staplers, punches, scissors, trays and other essential items. The Leitz WOW line offers these in a variety of colours to make your space more friendly and inviting.